Guidelines for 40th International and Japan Masters Athletics Championships 
1 Sponsorship Japan Masters Athletics・The Asahi Shimbun Company
2 Dates September 13 (Fri) – 16 (Monday), 2019 4 days
3 Schedule
| | | |
| --- | --- | --- |
| DAY 1 | September 13 (Fri)  | 8:30 – 15:30 |
| | Opening ceremony | 17:30 (Sakura Hotel Maebashi) |
| | Reception | 18:30 (Sakura Hotel Maebashi) |
| DAY 2 | September 14(Sat) | 8:30 Start of the game |
| DAY 3 | September 15(Sun) | 8:30 Start of the game |
| DAY 4 | September 16(Mon) | 8:30 Start of the game |
| | | 19:00 Closing session |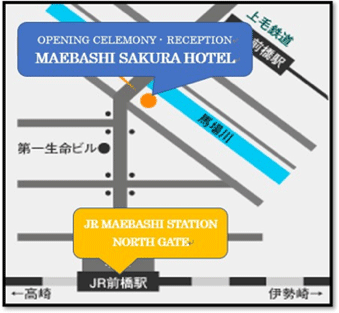 4 Venue
・Shoda soy sauce stadium Gunma and auxiliary stadium 
・Football field is available for warming up
 Address: Shikishima-machi 66 Maebashi-City 371-0036
 Phone +81-27-234-9338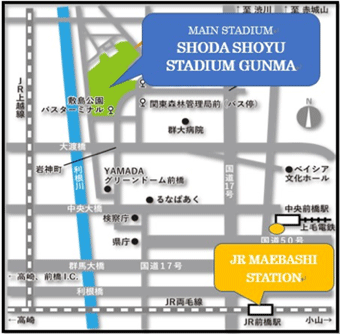 5 Competition classes
Classified as follows according to the age as of the first day of the championship based on the age class. (eg. An athlete born on September 13,1948 shall be M/W 70, born on September 14, 1948 shall be M/W 65.)
| Male | Female | Age | Male | Female | Age |
| --- | --- | --- | --- | --- | --- |
| M35 | W35 | 35 ~ 39 | M75 | W75 | 75 ~ 79 |
| M40 | W40 | 40 ~ 44 | M80 | W80 | 80 ~ 84 |
| M45 | W45 | 45 ~ 49 | M85 | W85 | 85 ~ 89 |
| M50 | W50 | 50 ~ 54 | M90 | W90 | 90 ~ 94 |
| M55 | W55 | 55 ~ 59 | M95 | W95 | 95 ~ 99 |
| M60 | W60 | 60 ~ 64 | M100 | W100+ | 100 ~ 104 |
| M65 | W65 | 65 ~ 69 | M105+ | | Over 105 years old |
| M70 | W70 | 70 ~ 74 | | | |
6 Competition type   Men's 29 events, girls 26 events
| Event | | Male | Female | Remarks |
| --- | --- | --- | --- | --- |
| Track events | 60m | M60~ | W60~ | |
| | 100m | All Classes | All Classes | |
| | 200m | All Classes | All Classes | |
| | 400m | All Classes | All Classes | |
| | 800m | All Classes | All Classes | |
| | 1500m | All Classes | All Classes | |
| | 3000m | M60 ~ M90 | W50 ~ W80 | Time-limited |
| | 5000m | M35 ~ M55 | W35 ~ W45 | Time-limited |
| | 80mH | M70 ~ M85 | W40 ~ W75 | |
| | 100mH | M50 ~ M65 | W35 ~ W35 | |
| | 110mH | M35 ~ M55 | None | |
| | 200mH | M80 ~ M85 | W70 ~ W75 | |
| | 300mH | M60 ~ M75 | W50 ~ W65 | |
| | 400mH | M35 ~ M55 | W35 ~ W45 | |
| | 2000mSC | M60 ~ M75 | W35 ~ W75 | Time limited |
| | 3000mSC | M35 ~ M55 | None | |
| | 3000mW | M60 ~ M90 | W35 ~ W80 | |
| | 5000mW | M35 ~ M55 | None | |
| Jumping events | High Jump | All Classes | All Classes | |
| | Pole Vault | M35 ~ M90 | W35 ~ W80 | |
| | Long Jump | All Classes | All Classes | |
| | Triple Jump | All Classes | All Classes | |
| | Five Steps | M60~ | W60~ | |
| | Jumping | | | |
| Throwing events | Shot Put | All Classes | All Classes | |
| | Discus Throw | All Classes | All Classes | |
| | Hammer Throw | All Classes | All Classes | |
| | Javelin Throw | All Classes | All Classes | |
| Relay events | 4×100mR | All Classes | All Classes | |
| | 4×400mR | All Classes | All Classes | |
7 Entry fee
(1) One event: 8,000JPY, two events 9,000JPY, three events 10,000JPY. (Max. three events)
(2) Relay: 10,000 yen per event(team).
(3) Any changes and/or additions after the application are not accepted even before the deadline.
8 Application for relay events
Select relay members from among individual entries. Participant for relay event only is not allowed.
(A) In the case of entry from overseas, the relay team shall be for each country. Each team / class must be one team. Elderly athletes can participate in younger classes, but it is necessary to include at least two competitors in the class. Maximum number of athletes to register is limited up to 6 athletes per team.
(B) The entry fee is 10,000 JPY per event, per team. 
<Change relay members>
In case of changing to an athlete other than a relay registrant, the replacement shall not exceed two. In addition, elderly athlete can participate as younger class.
It is application start at the end of May.
https://amarys-jtb.jp/rikujyo1/